The new location of the tat pictures is right below... just follow the links!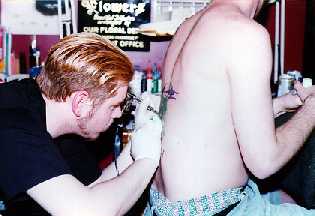 (this is me working on a client, of course)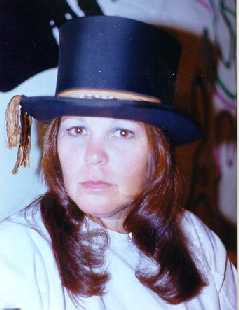 (and THIS is my partner and best friend, Nancy)




... As you'll eventually be able to see from the pictures, I have got quite a few ink pieces all over me, but since I don't have any pics of my own tattoos just yet, you'll have to settle for looking at some of the ones I've done on other people. I got my first in February of 97 (yes, not that long ago), the tribal Chinese dragon on my left arm... I was immediately hooked, and my tattooist gave me a few more pieces very soon afterward. I watched in awe as she scripted the Chinese characters for Spirit and Strength on my right arm, and winced in agony as she inked the six small human faces across my lower back. I learned that tattooing hurt, but not unbearably, and that arms were DEFINITELY more comfy than the small of the back. I asked her to teach me.

Within a month I had studied the mechanics of the needle, the sterilization procedures, and the techniques for color and shading. Nancy was my tattooist, then my teacher... She handed me the needle machine and I inked my first plot of skin, the tribal dragon/flame piece on my own left thigh. I am still very proud of that one, and since then I have done more work on myself, and have become a tattooist myself. Nancy Jones is now my partner in business, and we co-own IronWorks Tattoo in northern Virginia. All the work on my body was done by her, except my legs, which were generally both her and I working together... I owe all my tattooing exposure and experience to that one fateful visit to IronWorks. (And Nancy says "he came in one day, for a dragon, and he just never went home!") *grin*
Click to find photos!!
---